October 2015, my then fiancee (now husband) was in search for a house on rent in Gandhinagar, Gujarat. After working for about 4.5 years, he was actually settling in here. Spouse, family, and a comfortable place to live which WE would call it OUR HOME, was on his mind.
So after much hullabaloo and frequenting property agent's doors, he was finally able to get a really COOL property in Shukan Sky (F- 704) (Gosh! I am going to miss this place so bad!) which I wouldn't have imagined to have in Delhi.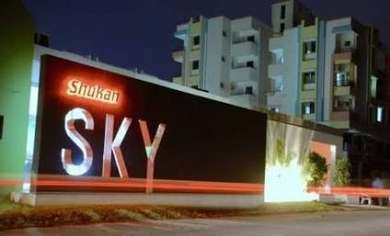 Coming straight to December 2015, I ended up landing with him and my first reaction on seeing that house was WOW!! The views were superb. The 2-bedroom house had such a panoramic view. My god! The balcony would open its doors to a small farmland, but that had really tall trees. Whenever I opened that balcony door, the cool blue breeze used to kiss upon the cheek and that feeling was just outstanding.
View from the Balcony
Each day, a new bird used to land up in the balcony and frankly, I had never seen such colourful pretty birds in my life till now. I was so well aware of their chirping, I knew which bird would it be (though I may not be knowing their biological or popular names, but I did knew how they look like).
World of Wonder
Sunset
Come Friday, we had the plans of walking to the nearby theatre that was just 5-minutes walk away from my place. Trips to Museums in Ahmedabad or sitting on the bench at Riverfront was something we would wait for eagerly. Else, we would just randomly go out on the bike at midnight to savour the Pathikashram's (Delhi's Comesum) famous Club Sandwich. The incredible sunrises and sunsets, his first birthday, my first birthday, our anniversary, the garba, everything "first" happened in there. Time rolled very fast in there. Life was going pretty well in that home, but that wasn't OURS.
Sunset
Sunrise
Coming straight to January 2017, the New Year brought NEW Resolutions. Oh! It was time to make a resolution for our life. One fine day, with mutual consent, we both agreed to shift to OUR HOUSE - A HOUSE THAT WE CAN CALL IT A HOME, WHERE I CAN DECORATE AS I WISH. We started hunting for a decent property that was well in our budget.
After searching for about 30 properties (both online and offline), we agreed to seal the deal with THE ONE. It was the exterior of the apartment and the serenity this place offers attracted us. I, being the nature lover, fell in love with this place instantly. The dense forest cover, low population, an ancient temple nearby, and peacocks, peacocks and some more peacocks is what gives me that rustic (old school) feel.
After all the formalities related to property buying were done, we finally moved to this new (undisclosed) place (I don't want crowd in this place, EVER! because that brings filth, noise, and pollution). Apart from it, more building means deforestation = No place for peacocks to live, disturbs the natural ecosystem.
The family came over and we entered this place with full vidhi-vidhaan. Frankly, it was a week-long ceremony and involved all the packing and unpacking of stuff, memories, portraits, all "the first" events and everything else. True to the human nature, adjusting here was a little difficult initially. But, as things proceeded, life here is way more comfortable.
I wake up to peacock's call each day and it rains heavily, 24 X 7. The music that the falling rain drops produce is just amazing. Try listening to it once and I am sure you will love it. On weekends, we brunch in our balcony and take in the exotic views that this place has to offer.
With barely any vehicular noise, I have plenty of time for myself and scribble what I love doing the most. It was only here, I created a Facebook page (not for monetary reasons, but for heart's contentment) where I publish my one-liners. If you like, do join it here -
Finally, if YOU ARE HERE, I bet, you wouldn't want to go back to your own place.